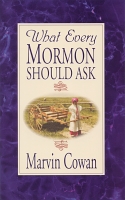 ---
Product Code:
XB167
Title:
What Every Mormon Should Ask
Author:
Marvin Cowan
Publisher:
Utah Christian Publications
Price:
$4.00
Date:
2000
Pages:
32
Additional Info:

---

Description

From back cover:

How can we find assurance that our lives are in line with the gospel? Author Marvin Cowan shares from his own experience in the Mormon Church, touching on issues like these:

How can I be sure that I'm doing enough?
Why can't I find some of the MOrmon doctrines in the Bible?
What role do prophets have today?
I've done all the temple work — why do I still feel uncertain about my position?
Being "saved" — what does it mean?

In this booklet you or a friend of yours will find wise counsel that can help give you certainty — from someone who has faced the same questions you have.
---
---
Authors Only | Authors with Titles | Titles by Category | Titles Only
---
Home | FAQs | What's New | Topical Index | Testimony | Newsletters | Online Resources | Online Books | Booklist | Order/Contact | Email | Other Websites