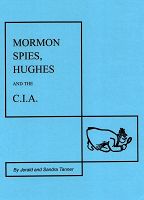 ---
Product Code:
UB047
Title:
Mormon Spies, Hughes and the C.I.A.
Author:
Jerald and Sandra Tanner
Publisher:
Utah Lighthouse Ministry
Price:
$8.00
Date:
1976
Pages:
95
Additional Info:

---

Description

Deals with the Mullen Co. (the firm which handled public relations for the Mormon Church) and the Watergate break-in, the BYU spying operations, the prostitution conspiracy, wiretapping and bugging, the CIA, Robert Bennett's involvement with Hunt, Hunt's BYU spy and more.

Table of Contents

NIXON'S TAPES PROVIDE CLUE
THE PROSTITUTION CONSPIRACY
CHURCH SPIES ON POLYGAMISTS
BYU SPY RING
MULLEN AND MORMON
MULLEN AND THE CIA
A SURPRISING DISCOVERY
BENNETT BUYS MULLEN CO.
BENNETT & HUNT DISCUSS BURGLARY
BENNETT AND SURVEILLANCE
HUNT'S BYU SPY
SKIPPED OVER IN ROCKEFELLER REPORT
ROBERT BENNETT FLETCHER
BUGGING PLANS AT MULLEN OFFICES
FBI AFTER HUNT
TROUBLE AT MULLEN COMPANY
BENNETT IN HOT WATER
BENNETT'S COVER-UP
BURGLARY AND BUGGING SERVICES
HUGHES AND THE C.I.A.
SO-CALLED "MORMON MAFIA"
DEATH OF HUGHES
INTERTEL AND HUGHES
HUGHES AND WATERGATE
COUNCIL OF 50
DOES COUNCIL OF 50 STILL EXIST?
LAW ENFORCEMENT BODY OF CHURCH
MORMON MISSIONARIES AND C.I.A.
C.I.A. & CHURCH'S EDUCATIONAL SYSTEM
MORMONS IN GOVERNMENT
MORMONISM AND BUGGING

APPENDIX

NEW LIGHT ON MORMON-C.I.A. RELATIONSHIP
ASSASSINATION AND THE SECRET ARMY
HUGHES' MYSTERIOUS DEATH
IS BENNETT "DEEPTHROAT"?
THE DE MOTT INTERVIEW
BENNETT AND THE ITT AFFAIR
BENNETT'S DUMMY COMMITTEES
INTERPROGRES
J. WALTER THOMPSON CO.
---
---
Authors Only | Authors with Titles | Titles by Category | Titles Only
---
Home | FAQs | What's New | Topical Index | Testimony | Newsletters | Online Resources | Online Books | Booklist | Order/Contact | Email | Other Websites